Karma Foundation Member Newsletter
January 2012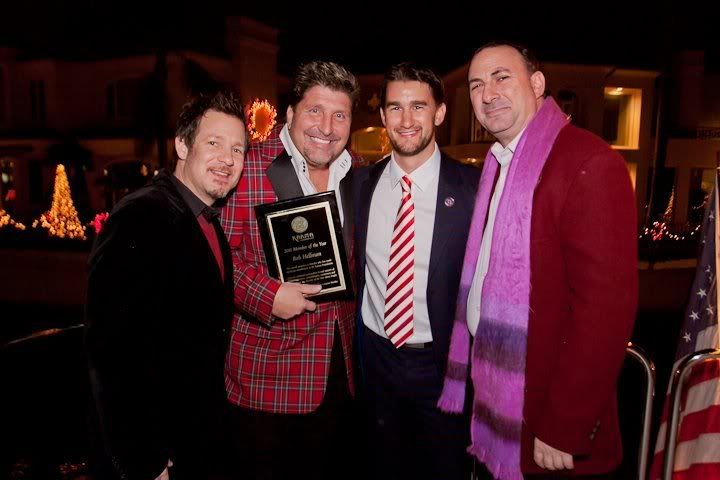 Karma Member of the Year Award presentation to Bob Hellman!
New Members ———————————

Warren Irwin

Toronto, Canada

Matthew Hepler

San Diego, CA

James Jackson

Friendswood, TX

Keyvan Razi

Irvine, CA

Scott Shagrin

Los Angeles, CA

Russ Matthews

Redondo Beach, CA

———————————-

Newport Beach, CA

December 17, 2011

Karma Members and guests celebrated at Karma's 2011 Holiday Party aboard the beautiful 125ft yacht "Celebration" for an evening around Newport Harbor with great friends, new friends and much holiday cheer.

It was a truly magical evening with fantastic weather, homes and boats decorated in bright lights and the annual Holiday Boat Parade in full swing.  DJ MisterE spun groovy holiday tunes for the evening.  Food and drink were bountiful.

One of the highlights of the evening was Karma President & Founder, Eric Stotz, presenting the 2011 Karma Member of the Year award to Bob Hellman. Bob was recognized for his outstanding participation, dedication to philanthropy and new Member recruitment efforts.

We collected over 50 unwrapped toys for the STAR Education annual toy drive so underprivileged kids can have a wonderful Christmas.

A warm Karma "Thank You" goes to Member Casey Bennett for hosting the evening on his yacht.
Karma Foundation, LLC – www.thekarmafoundation.com – Copyright 2011.
Phone: 310-499-4773 – 433 N. Camden Dr., 6th Fl. Beverly Hills, CA 90210 USA